Party Bus Rental Arizona
Go around the city in our stylish and luxurious party bus. Our party bus rental service in Arizona is the perfect and the stylish way to attend your event. Party bus is our specialty, and we are committed to providing the best services to both corporate and leisure guests.
Party Bus Safety
Our party buses are registered and licensed. They are chauffeured by some of the best chauffeurs in the city. They are all well trained professionals, who practice safe and defensive driving. We follow a regular maintenance schedule for our vehicles. You can select one of our party buses below for your party transportation needs.
20 Passenger Party Bus
40 Passenger Party Bus
20 Person Party Bus Features
Capacity: Up to 20 passengers
Air conditioned booth
Perimeter seating
Privacy window divider
LCD TV & DVD player
Stereo sound system
iPod connection
Intercom
Audio input
Safety hatches
Luggage storage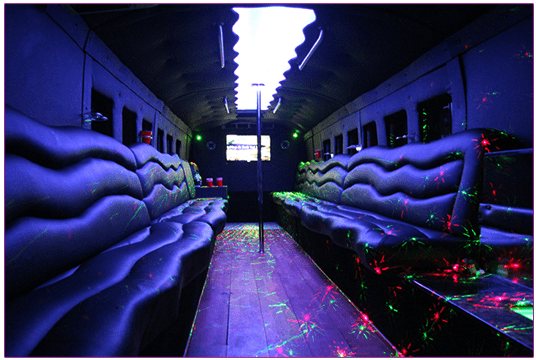 40 Passenger Party Bus Features
Capacity: up to 40 passengers
Wurlitzer jukebox
Full casino with free Gambling with no winners
5 Video slot machines
5 Separate AC systems!
4 AC Units on top of roof
DVD Player Video CDs MP3 and movies play in Stereo
3 Big Flat screens TV's with HD 47″42″42″
3 Stereo incredible sound system
3,000 Watt stereo massive sounds
3 Stripper poles and dance area
Custom wet bar with crystal decanters and glasses
Bar with sink with running water
100 Glasses in 6 different colors
Custom lighting throughout
Green and red laser Disco ball lights
X-Box and karaoke machine
Luxury black leather Interior
Full fiber optics cool lights atmosphere
Heater with climate control
6 – Ice chests to keep drinks cold
310 lbs of ice can fit in chests on board and snacks complimentary
Bubble tube lighting effects
Bathroom, with sink and running water
40 Gallon garbage Bin
Stereo with Phone to call driver with a door to access through the bar
Safety hatches 6 different escape hatches
Bolted safe to keep money safe
26 switch for power with over one mile of Romex wire
2 – Single-phase 100A main circuit breaker
Boxes 120V/240V
12 K generators
External PA system
Poker table with chips & cards
Private cabin with driver intercom
Fog machine